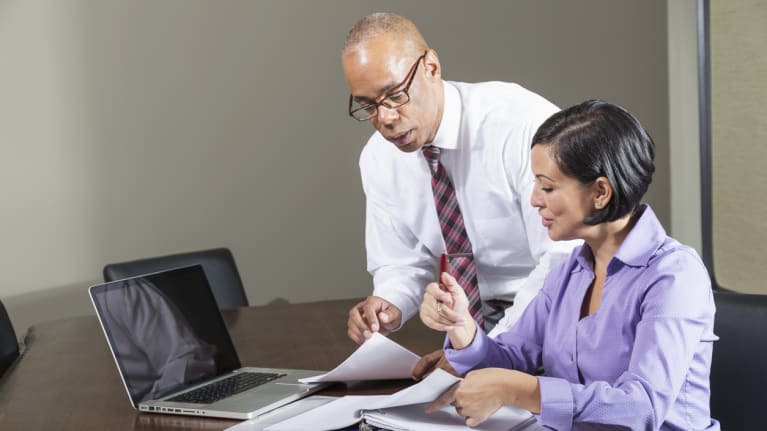 Sixty percent of male managers admitted that they are uncomfortable mentoring, working alone with or socializing with a female colleague in light of the #MeToo movement, according to a recent survey of U.S. adults.
That's an increase of 14 percentage points from last year when SurveyMonkey and LeanIn.Org conducted a similar national online poll.
And another SurveyMonkey poll, conducted in March, found that senior men are 12 times more likely to hesitate to have a work dinner with a junior-level female colleague than with a junior-level male colleague and five times more likely to hesitate to travel on business with a junior-level woman.
But women need men's support to advance in the workplace, according to LeanIn.org, the Sheryl Sandberg and Dave Goldberg Family Foundation.
"If fewer men mentor women, fewer women will rise to leadership. As long as this imbalance of power remains, women and other marginalized groups are at greater risk of being overlooked, undermined, and harassed," LeanIn.Org says on its website.
[SHRM members-only resource page: Workplace Harassment]
A 2018 Women in the Workplace report from McKinsey & Co. noted that women receive less day-to-day support and less access to senior leaders than men, impeding their career growth. "Employees who interact regularly with senior leaders are more likely to ask for and receive promotions, stay at their companies, and aspire to be leaders," the report authors wrote.
SHRM Online collected the following stories from its archives and other respected sources on the importance of men supporting women colleagues' career growth. 
Wall Street Rule for the #MeToo Era: Avoid Women at All Cost 
No more dinners with female colleagues. Don't sit next to them on flights. Book hotel rooms on different floors. Avoid one-on-one meetings. In fact, as a wealth adviser put it, just hiring a woman these days is "an unknown risk." What if she took something he said the wrong way?
Across Wall Street, men are adopting controversial strategies for the #MeToo era and, in the process, making life even harder for women.
(Bloomberg)  
A Chilling Effect of #MeToo in Academic Medicine 
The movement is scaring off male academics from mentoring women, according to commentary penned by six Canadian scientists—all women working in the fields of medical research and education.
Mentoring in medical circles is a big deal, with academic doctors having a "professional and moral obligation to mentor the next generation of medical professionals," the commentary says.
Not doing so would have serious consequences on a woman's career trajectory, said Sophie Soklaridis, the commentary's lead author and a scientist at the Toronto-based Centre of Addiction and Mental Health.
"When women are not on the radar, it limits their opportunities for these kinds of advancements."
(CBC News)  
Viewpoint: The Number of Men Who Are Uncomfortable Mentoring Women Is Growing 
#MeToo has shaken up the workplace. Good—it needed shaking up. A safer workplace for women is a better workplace for everyone. Still, we have a long way to go before the workplace is truly equal. To get there, we need men to support women's careers.
We wish we could say that more men are stepping up for women. In fact, the opposite appears to be happening. This is disastrous. If they're reluctant even to meet one-on-one with women, there's no way women can get an equal shot at proving themselves. Instead, women will be overlooked and excluded, which is a terrible waste of talent, creativity, and productivity. It's not good for business or for anyone. 
(Fortune)   
The Surprising Benefits When Men Mentor Women 
"There are benefits on both sides when men mentor women," said David Smith, PhD., co-author of Athena Rising: How and Why Men Should Mentor Women (Routledge, 2018). "Women get more raises, they advance faster, and they stay in the organization longer. That's not because men are better mentors, but because they have positions of influence and power. It's a numbers game. Men get increased access to information, they build a more diverse and expansive network, and they tend to increase their interpersonal skills."
(Inc.)  
Putting Humanity into HR Compliance: During #MeToo Movement, Replace Avoidance with Common Sense 
An unfortunate consequence of the #MeToo movement is that some male executives and managers say they now try to avoid female colleagues in the workplace.
The closed-door meeting that bosses won't have with their direct reports signals a lack of trust. The business meals that supervisors avoid sharing with lower-level employees result in lost opportunities for mentoring, coaching and developing stronger working relationships. Not traveling on the client visit or business trip impairs a mentee's ability to build his or her network and gain valuable experience. 
(SHRM Online)  
Advice for Men Who Are Nervous About Mentoring Women 
Many senior male managers reportedly are responding to the #MeToo movement with a better-safe-than-sorry attitude and are pulling back from mentoring women. But if we want more women leaders, we need men in powerful positions to support their ascension. 
Here are five suggestion on how men should approach mentoring in today's workplace. 
(Harvard Business Review)  
Tips for Managers 
Closing the gender leadership gap is an imperative for organizations that want to perform at the highest levels. Leveraging the full talents of the population provides a competitive advantage; companies with more women in leadership roles perform better, and employees on diverse and inclusive teams put in more effort, stay longer, and demonstrate more commitment. To change the numbers, gender bias and stereotypes have to be understood and counteracted. 
(LeanIn.Org)  
National Mentoring Resource Center 
The National Mentoring Resource Center provides a collection of mentoring handbooks, curricula, manuals, and other resources that practitioners can use to implement and further develop program practices. This growing collection of resources have all been reviewed by the National Mentoring Resource Center Research Board. Most items are directly available for download here or elsewhere online. 
(National Mentoring Resource Center)