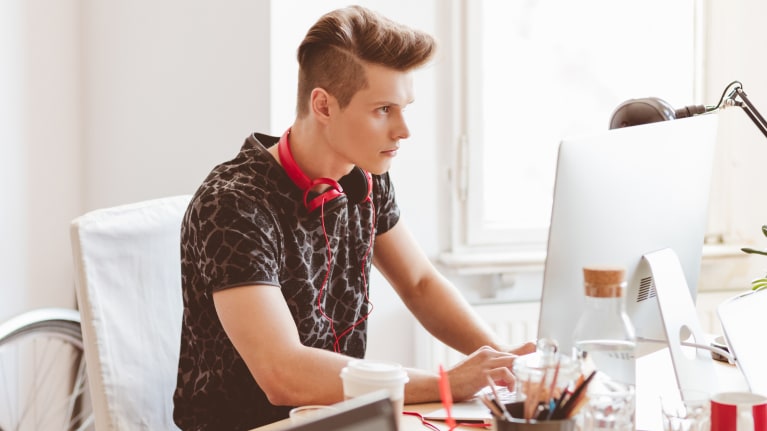 Last year, Los Angeles business owner Aquila Leon-Soon learned of an internship program that helps young people who have troubled backgrounds. She immediately signed up to host an intern, and said she is very happy with her decision.
Leon-Soon is the chief executive officer of ATS + Partners, an organizational development and leadership strategy firm. Her company hired an intern through the Creating Opportunities and Real Experiences (CORE) program, which was recently launched by the Los Angeles Area Chamber of Commerce and Los Angeles County.
The initiative offers work experience for at-risk young adults, some of whom have criminal records. The participants are matched with local businesses for an eight-week internship, and the county subsidizes the wages they earn.
"Having a stable job is the single most important factor in helping an individual not recidivate and go back to jail," said Gerry Feeney, director of the chamber's Smart Justice initiative, which includes the CORE program.
[SHRM members-only online discussion platform: SHRM Connect]
Another program goal is to provide new talent for businesses. And that's exactly what Leon-Soon gained. Her company signed up to have an intern at its Los Angeles office to help with research. Although the 24-year-old intern had faced legal troubles, he was productive and eager to learn, and the firm hired him as a full-time employee when the internship ended.
"The program allows [participants] to get back on track and have a fresh start," Leon-Soon said.
Program Details
Young adults ages 18 to 24 are eligible for internships. The program is aimed at people with troubled backgrounds, such as those on probation or with incarcerated parents.
Participants receive training and undergo a background check before being placed with a company. The county handles the background check through America's Job Center of California. The background screening is used to help with the placement process, and program administrators try to ensure that the offense has no relation to the job duties.
In addition, chamber staff interview participants to determine if they can be certified as "work ready" and eligible for entry-level internships. If not, they can participate in pre-entry-level internships. When matching interns with businesses, the intern's career interests are kept in mind.
Interns work Monday through Thursday, and Fridays are reserved for professional development and mentoring.
The CORE program launched in 2018 with about 40 businesses, though only 20 young adults completed the training program and were ready to start work. The second cohort will start their internships in April, and Feeney hopes that about 60 young adults will be placed for this phase.
Feeney noted that there are other similar programs in the U.S., but the CORE program differs from the others in some ways. For instance, CORE focuses on administrative jobs in high-growth sectors, whereas many programs focus on manual labor.
Smart Justice
The CORE program is part of the chamber's Smart Justice initiative, which launched in response to Proposition 47. The California 2014 ballot measure changed the way certain low-level offenses are classified, reducing them from felonies to misdemeanors.
In light of Proposition 47, the chamber examined ways to help young adults who are on probation. At the time, Feeney worked at the transportation company DHL. He received a chamber newsletter discussing the Smart Justice program, and it sparked his interest.
Feeney's background helps him in his role with the program. In the late 1990s, he served time in a juvenile detention center, where he earned his GED. Later, he had a felony conviction as an adult, but he was released on bail and hired by a large company.
Feeney has turned his life around. "I've proven that people who make bad decisions … can turn out to be some of the best employees," he said.
Opportunities
CORE participants can boost their career prospects in many ways. "They learn skills, get exposure to the business world, and develop relationships with businesses," Feeney said.
The interns often bring resilience, enthusiasm and perseverance to the workplace. They're good at overcoming adversity, and they generally work well in high-stress environments, he noted. Also, he added, they're so grateful for job opportunities that "they tend to stick around."
Participating businesses might be pleasantly surprised by the interns' attitudes and skills, according to Feeney. Companies are told that if the intern is impressive, "we would love that person to stay with the company and become a full-time employee," he said.
At a time of low unemployment, it's in everybody's best interest to consider hiring those with criminal backgrounds, he added.
Compliance Issues
The CORE program is timely, in light of state and local efforts to remove employment barriers for those with criminal histories. California's "ban-the-box" law prohibits employers from asking about an applicant's criminal background before making a conditional job offer. Additionally, under a Los Angeles ordinance, companies must follow a detailed process before declining to hire applicants based on their criminal records.
So if a business seeks to hire a CORE program intern as a full-time employee after the internship, should there be another background check? That will depend on the business, the position and other factors, according to Andrew Hoag, an attorney with Fisher Phillips in Los Angeles.
If a company decides to run a background check, then it must comply with procedures specified in California and Los Angeles laws, Hoag said. For instance, the employer must wait until it makes a conditional employment offer before conducting the background screening.
Toni Vranjes is a freelance business writer in San Pedro, Calif.
[Visit SHRM's resource page on workforce readiness]