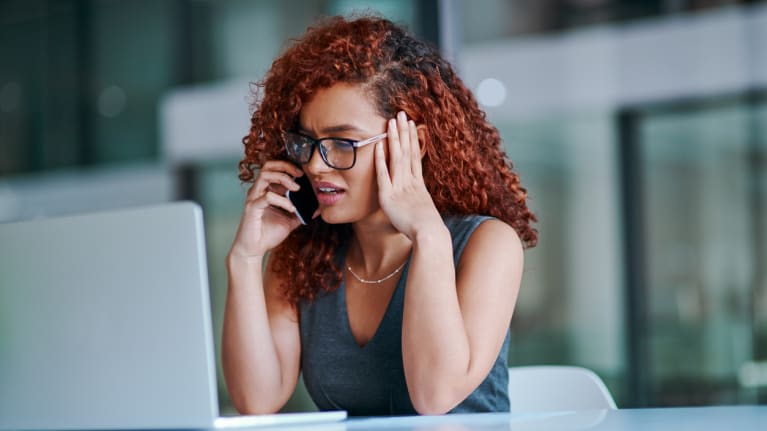 ​Hiring managers, has this ever happened to you? You're looking for someone with media swag to attract new clients when—voila!—your perfect candidate suddenly appears. This guy is tech-savvy and has good social media skills—just what you're looking for. His marketing experience documented on his LinkedIn profile impresses you. You quickly message him.
Not at all camera-shy, he aces the screen test during the video interview and makes it to the last round. He impresses everyone on the hiring panel, so you hire him. Then something goes terribly wrong.
Missing in Action
Your new hire has been on the job for just three weeks when you get an early morning text: "Sorry, will call you, can't make it in today." You're not pleased about the lack of notice, but you understand that everyone needs a sick day now and then. He's a younger employee who might not yet understand the expectations of work. The next day, he doesn't show up and he doesn't text or return your calls. The same thing happens on the third day, and now you're worried. You call his emergency contacts, who don't respond, and talk to his co-workers, who say they don't know where he is. You're starting to feel like you're on an episode of "CSI" as you continue your investigation. Did he say anything before he left indicating he was unhappy? You figure at this point he's living in a different town under a new identity, because he's just disappeared.
Time to face the facts: Your new rock star marketing employee has decided the job wasn't a good fit. No letter of resignation, no two weeks' notice; he just never returned. You've been ghosted.
Communication
So what went wrong? It's possible there was a failure to communicate between the generations. Millennials and members of Generation Z consider texting their primary (almost exclusive) form of communication, but they think making or receiving phone calls is disruptive and inconvenient, according to Forbes.
Members of Generation X and Baby Boomers, on the other hand, have a long history of relying on other methods of communication, such as face-to-face conversations, phone calls, e-mail and voice mail, and have strong ideas about the appropriate use of each form of communication.
Get your employees on the same page. Start by canvassing your managers to understand their preferred methods of communication. Then develop internal communication protocols to reflect those preferences, along with hard-and-fast rules that should apply to all work settings. Be prescriptive where needed, especially in cases where two-way communication is mandatory, such as for emergencies or resignations. Etiquette in the communication process should be discussed during orientation; set expectations right from the start.
"We have included a section in our employee handbook which details how we would like to see an employee quit a job," said Jennifer Peck, HR director at Aquascape Inc., a leading manufacturer of water features and pond products in St. Charles, Ill. "Once we have established mutual respect, we are less likely to see resignations with no notice."
Accountability
Problems in communications may be indicative of a larger issue: a lack of accountability and failure to set expectations for taking responsibility for actions. Texting simply allows for a greater opportunity to fly under the radar and avoid conflict. While few people would readily choose to engage in an uncomfortable conversation such as quitting, it's more culturally acceptable among Millennials and members of Generation Z to put a text together, hit send and wash their hands of the matter.
Take stock of your own actions. Have you ever hidden from a "pesky" candidate or avoided sitting down with a difficult employee? Be a role model and show employees how to be the "adult in the room" by making time for important communications.
Start with basic common courtesy in your talent acquisition processes. Be timely in your communication with candidates and show appreciation for the investment they've made in your company throughout the screening process. Once a hiring decision has been made, quickly communicate results. After the candidate is hired, make yourself available to discuss employee relations matters when he or she asks. Do more listening than talking.
"We are working with a client's hiring managers to build understanding of the role they play in a new employee's experience," said Kathy Lunsky, principal at Brentwood Advisory Group, a Chicago-based consulting firm providing interim management, executive and board services. "Through interactive role playing, they learn to build rapport and eliminate the sink-or-swim approach with new hires."
There are also external forces at play over which you have little or no control. Employment opportunities abound, making it easy for those considering a swift, unannounced exit to slip out the back door. Plus, younger generations are largely disinterested in pledging long-term allegiance to an employer. Maybe the leaving-without-notice syndrome will dissipate in a less favorable job market. But in today's robust employment climate, concern about burning bridges isn't a strong deterrent.
Going Forward
Hold people accountable and continue with heavy doses of engagement. If you do, you may find fewer defectors jumping the fence.
Barbara Schultz is an HR executive serving on the board of directors at the Community Career Center in Naperville, Ill., where she also provides career coaching.