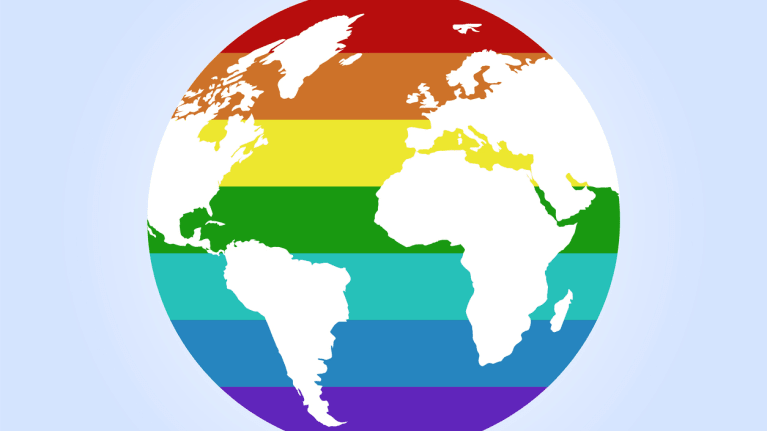 ​Global employers that want to promote diversity and inclusion can support lesbian, gay, bisexual and transgender (LGBT) employees and advocate for LGBT rights, even in countries with policies and attitudes that are hostile to those rights—if they approach their activities with care.
A report from the Center for Diversity, Inclusion and Belonging at New York University School of Law provides a guide for multinational organizations to support a diverse workforce in anti-LGBT jurisdictions.
The paper, Opening Up the Word: How Multinational Organizations Can Ascend the Maturity Curve on LGBT Rights, is based on interviews with 30 leaders and employees around the world from companies supporting LGBT rights, including EY, Microsoft and Dow Chemical, and it shows companies how they can assess the risks in a particular country and decide how to respond. Global companies typically choose one of the following approaches:
A "when in Rome" stance, in which exceptions are made to their pro-LGBT policies to comply with local norms.
An "embassy" approach, in which the employer follows pro-LGBT policies and practices in-house without seeking to influence the culture outside the business.
 The "advocate" outlook, in which the company aims to make changes in society by lobbying the government or supporting activists.
"Companies can and routinely do operate in all three models across different office locations," the report said, acknowledging that companies can't operate in the advocate model in every country.
Assessing Dangers
Companies often are afraid to support LGBT rights in hostile areas, said David Glasgow, the NYU center's executive director and study co-author. They may be nervous about client or manager reactions, government crackdowns or safety risks.
"In many cases, those concerns are overblown," he added.
Some places do present real dangers, he noted, but "part of the purpose of the report is to help companies assess what is the real danger."
The extent to which companies can show support for LGBT rights depends in part on the policies and practices in a given country. The report recommends companies assess risks from legal, social and company-environment standpoints, looking not only at a given country but also at differences in social and cultural norms within countries.
"In some places, just getting to [the] embassy [approach] would be a huge win," such as offering inclusive policies and partner benefits, "whereas in other places, there's an opportunity to keep pushing along the curve and become an advocate," Glasgow said.
Roughly 70 countries outlaw homosexual activity, and in 13 of those, it is punishable by death. However, according to the paper, the leader of one of those countries, Brunei, has said it won't enforce such a severe penalty.
Only a quarter of nations offer protections against discrimination based on sexual orientation, and about that many accept marriage equality, the report said.
"There is no doubt that we experience belonging differently in each of our communities, and we know that we have to respect the cultures of the countries that we operate in. But when it comes to the workplace, it is important to break down the barriers that divide individuals by encouraging consistent communication and creating teams that are unified by diverse strengths and backgrounds," said Karyn Twaronite, EY's global diversity and inclusiveness officer.
"In today's social climate, organizations play a key role in making employees feel safe and like they belong in the workplace," she said. "Despite the complexities that come with advocating for LGBT rights in countries that may not adhere to certain values, company leadership can help provide employees with safe spaces to be themselves," regardless of location.
However, in some countries, coming out at work may be dangerous. Glasgow said that in Saudi Arabia, for example, doing anything specifically related to LGBT rights is too risky, even internally.
"If someone comes out at work, they're put at risk outside of work. A colleague could report them to the religious police, and they could get arrested," he said.
[SHRM members-only toolkit: Introduction to the Global Human Resources Discipline]
Building Alliances
In countries where pro-LGBT activity is too risky, Glasgow said, companies can look at what they might do to "build capacity" for a more inclusive work environment in the meantime.
They might start groups or events for LGBT allies, so there is no pressure on participants to come out, or on gender inclusion, as there's often a connection between homophobic and misogynistic attitudes, Glasgow said. Employers also can use technology to start looping in employees in LGBT-hostile locales to what other offices are doing with regard to LGBT rights, he said.
The report suggested that companies lay the groundwork by cultivating internal grassroots and leadership allies, raising awareness through basic sexual-diversity training, and providing insight on the value of a supportive LGBT environment, including its importance to Millennial workers.
In restrictive countries with some leeway, employers might be able to engage in "subtle or creative actions internally" that push toward advocacy, the report said.
In Singapore, the government prohibits foreign companies from participating in the local Pink Dot event, the country's version of a Pride celebration, according to Glasgow. Dow, nonetheless, hosted an internal Pink Dot Day.
It was "one of the more well-attended events they had had in recent times" and the type of activity companies can undertake to promote an inclusive in-house environment, Glasgow said.
Beyond any ethical or humane arguments for inclusivity, why should companies go to such lengths to advocate for LGBT rights? "There's a strong business case for LGBT inclusion, as there is for all forms of diversity and inclusion," he stated. If corporations don't provide a welcoming and inclusive environment to LGBT people, he said, they will lose talent to more-welcoming companies.
Dinah Wisenberg Brin is a freelance reporter and writer based in Philadelphia.