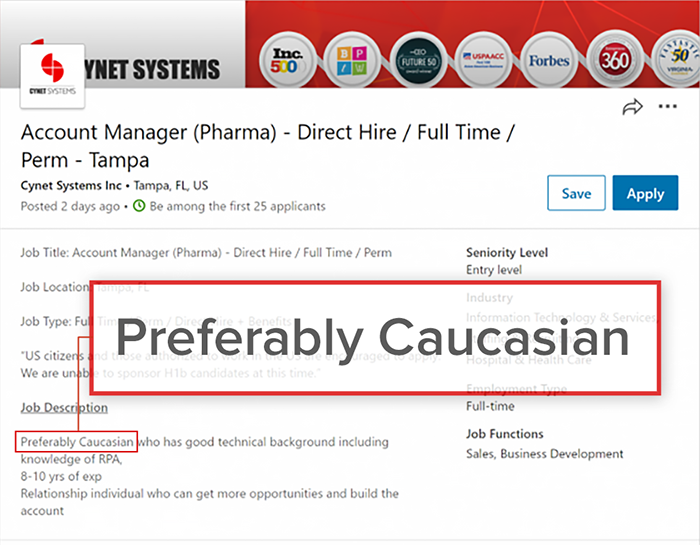 A Sterling, Va.-based IT staffing agency is learning the hard way the importance of auditing its clients' job ads for potential bias and making sure recruiters are on board with inclusion and diversity efforts.
The job description Cynet Systems posted online weeks ago—and since removed—on behalf of a pharmaceutical company in Tampa, Fla., was seeking "preferably Caucasian" applicants with good technical backgrounds and eight to 10 years of experience for a full-time account manager position.
The Twittersphere lit up in outrage, generating thousands of responses that tweet-shamed the staffing agency. Similar comments appeared in a discussion thread on SHRM Connect, a platform for Society for Human Resource Management members.
Cynet Systems, which is certified as a diversity supplier by the National Minority Supplier Development Council, removed the ad and said in a statement that it had immediately fired those involved for going outside of company policy and including an inappropriate requirement in a job listing, which it considered a "significant violation of company policy."
It said it also had begun reviewing all existing and upcoming ads "to ensure no similar issues exist" and was looking at measures that "could help us catch offensive or outside-of-policy ads before they ever go live to ensure this can't happen again." 
The company noted that, "It is a long-standing policy for our company to refuse any request to list jobs only seeking candidates of any specific ethnicity, gender, or other inappropriate restrictions, and we will turn clients down if they demand requirements of this type be included."
Cynet Systems is not the first company to trip over insensitive or discriminatory job application communications.
In February, IBM apologized for using racially insensitive terms, such as "yellow" and "coloured," in a pulldown menu capturing demographic data on its job application site. A prospective applicant brought it to the public's attention with a video on Twitter.
IBM's recruiting websites "had temporarily and inappropriately solicited information concerning job applicant ethnicity, based on local government requirements in Brazil and South Africa," IBM's vice president of corporate communications, Edward Barbini, told Fortune magazine.
Avoiding Discriminatory Practices
The Cynet Systems and IBM incidents are reminders—in flashing neon lights—that employers should make sure both their communications and their recruitment and hiring practices are not discriminatory. Failing to do so could lead to a reputational nightmare and legal claims.
Michelle La Mar, a Los Angeles-based partner and chair of law firm Loeb & Loeb LLP's Employment & Labor practice, said employers should sufficiently staff their recruiting teams.
 
"Today, many companies—particularly in the science, technology, engineering and math area, but the same is true in other areas—have a small recruiting arm with hundreds of positions to fill urgently. The postings are often drafted and sent to job boards before a second-level review takes place by the recruiters. An automatic keyword search that blocks the ad or sends a red flag to the recruiting staff may be useful where staffing levels are low."
It's also important to be Title VII-compliant.
Title VII forbids recruitment practices that purposefully discriminate on the basis of race and practices that disproportionately limit employment opportunities based on race and are not related to job requirements or business needs, according to the U.S. Equal Employment Opportunity Commission (EEOC).
[SHRM members-only toolkit: Managing Equal Employment Opportunity]
Title VII, the EEOC noted, "specifically forbids job advertisements based on race, color and other protected traits. The statute also prohibits discrimination by employment agencies. If an employer asks an employee-referral agency or search firm not to refer or search for candidates of a particular race, both the employer that made the request and the employment agency that honored it would be liable." 
"Training is always helpful," La Mar said, "but what I think what needs to be carried home by way of training is not just the company's diversity goals. It must include recognition that the business needs of the company can't outshine proper conduct under Title VII." 
And organizations should be vigilant in all their communications.
"You cannot turn a blind eye just because you outsource your recruiting to someone else," La Mar said. "If a company, small business or startup is outsourcing recruiting, they should remember that the job description has to come from the company, not the recruiter. As a practical matter, most if not all of legal claims are made against the company first," she said.
"In short, the job description needs to be written in a way recruiters can use. The recruiter should serve as a second set of eyes before the job posting is published online, nothing more. I suggest that companies create posting templates and include an EEOC-favorable statement such as:
"[Name of company] is an equal opportunity employer and does not make hiring decisions based on age, race, gender, religion, disability or any other characteristic protected by applicable law."
She added, "Bad postings can lead to pattern-and-practice-type discrimination claims. They arguably discourage classes of applicants from applying on a systematic basis. If this practice goes unchecked, the workforce may end up being statistically inconsistent with the applicable labor market. Explanations are difficult in such circumstances, and inconsistent statistics are the soup du jour of discrimination claims these days."
The EEOC declined to comment to SHRM Online about the Cynet Systems incident, but the agency referred employers to policy-guidance documents on its site that deal with race and color discrimination and to Q&As about race and color discrimination in employment.
"Recruiting from racially segregated sources, such as certain neighborhoods, schools, religious institutions, and social networks," the EEOC said on its website, "leads to hiring that simply replicates societal patterns of racial segregation."